Lakeview Garage
We service all types of automotive & diesel repairs, Computer Diagnostics, Preventive Maintenance, Tractor and Trailers, Federal Inspections for Commercial Trucks, and New Jersey Diesel Emission Inspection. AAA Motor Club preferred provider of Mid Atlantic and Southern NJ Clubs
Honored by AAA for over 50 years.
Automotive & Diesel Repairs
We service automotives and diesels, from your family vans to your company's rig. All makes and models.
Just For Wheels Rentals
Cars, Trucks, 15 Passenger Vans, SUVs, Cargo, Reefers, Stake
- Long and Short Term
Road Services
Locks Outs, Flat Tires, Jumps, Gas, etc. Towing Light and Medium Heavy Duty, Cars to Tractors and Trailers.
- Damage Free Towing
Any Time Any Place Car and Tractor Swaps, Machines and Equipment Transport, Used Car and Trucks for Sale, 4x4 Service and Off-Road Recovery Service, and more!
Call us for more information on our services! We do not have answering machines!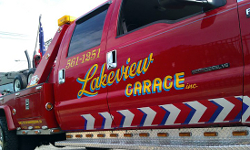 Our Hours
Monday - Friday 7:45AM - 6:00PM
Saturday, Sunday 9:00AM - 4:00PM.
Shop Location
500 S. White Horse Pike - Hammonton, New Jersey
1 Mile South of Highway No. 206 Traffic Light
Contact Us
Phone: 609.561.1251 | Fax: 609.561.1253
Email: lakeview_garage@verizon.net
Nick J. Perone Jr: 609.209.1192
Dave J. Perone Sr: 609.209.1191